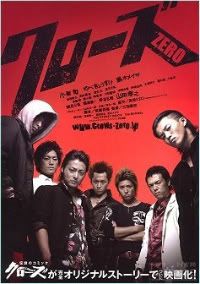 Crows Zero
Japan, 2007
Genre: Gangster, High School
130 minutes
http://www.imdb.com/title/tt1016290/
A prequel to the manga series by Hiroshi Takahashi, Takashi Miike directs the origins of Genji's rise to power in the ultra-violent Suzuran All-Boys High School.
In the chaotic world of Takashi's Suzuran, a student's worth is proved by his fists and his gang. Our protagonist, Takiya Genji, transfers to the high school in hopes of conquering it, a feat his yakuza father was unable to do decades ago. Like other yakuza and criminal films, Miike touches on themes of friendship and loyalty, the bonds between men forged in battle, and the respect given to leaders who show their strength to their followers. While the writing is rather contrived in places (in particular the repeated use of a love interest as a convenient plot point), the actors open up the space and bring the audience into the story very well. While switching back and forth between adolescent humor and dramatic tension, the cast is guilty of hamming it up in places, but it mostly goes unnoticed.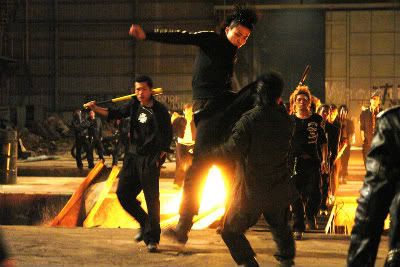 The photography of the film isn't particularly outstanding, although there are a few truly iconic scenes. Miike does manage to capture the epic atmosphere demanded by the story, and yet keeps the camera relatively grounded, gritty enough to embrace the visceral nature of the subject matter. This works against the audience in some of the action sequences, which can become confusing before identifying characteristics are clear to the viewer. Even at the end of the film, when we're aware of who is beating up whom (generally given away by their outlandish hairstyles), faces and identities get lost in the shuffle. Although not usually vital to understanding the story by the end, enthusiasts of fights on film may have a hard time of enjoying these pieces.
The action itself is superb, and the cinematography doesn't always do it justice. Bordering between brutal realism and cartoonish violence, the comic book roots are clearly evident. The choreography is simple and direct; expect lots of haymakers and straight knees to the midsection. With the addition of the flashy kick or pro-wrestling throw here and there, the result ends up looking very much like a manga about violent teenagers in a comic book scrap. While not particularly elegant or fantastic like the Hong Kong style of fight scenes, Crows Zero has its own rather pleasing aesthetic, thanks in part to very impressive editing and scoring. The climax of the film shifts moods dynamically, but it fits so well that it's almost unnoticeable.
Having never read the Crows manga, I can't say for certain how accurate an adaptation Miike produced. However, as a piece of film on its own merits, I can say that Crows Zero is a very fun movie for comic book violence.