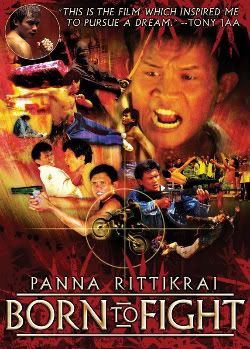 Kerd Ma Lui
Thailand, 1984
Genre: Pulp Action
93 minutes
http://www.imdb.com/title/tt1566530/
Panna Rittikrai, the man behind Ong Bak and Tom Yum Goong, directs and stars in Born to Fight, one of his earliest films. A Hong Kong lawyer uncovers an embezzling plot and must flee to Thailand seeking protection from a fearsome gang of enforcers.
Marketed as the film inspiration for Tony Jaa's own stunt career, Panna's work is easily recognized in this piece of history. Panna himself was heavily influenced by the films of Bruce Lee and Jackie Chan, and numerous references to both action stars make their way into the movie (try counting how many times Panna swipes his nose). Still, this piece represents a landmark in the development of Thai action cinema, and pioneered many of the stunt techniques seen later in his films with Tony Jaa.
While the production quality is definitely reflective of the low budget and undeveloped photography skills, the movie is rather entertaining for what it had to work with. The acting is unsurprisingly wooden and melodramatic, but the dialogue is genuinely clever and humorous at times. Panna relies on a number of classic slapstick gags for comic relief, which doesn't always feel appropriate for the moment, but the talents of his comedic co-star help sell the cheesiness of the jokes.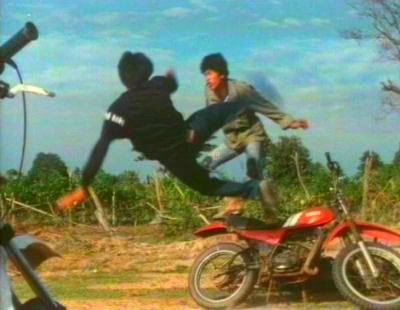 Like his protégé, Panna uses the film to demonstrate his numerous skills in stunt performance and choreography. Fast paced fight scenes and full-contact strikes became the cornerstones for his wild success with Ong Bak, and his use of a variety of martial arts styles would be seen again in Ong Bak 2. Leaps off cars, over dirt bikes, into flames, and through floorboards make up rest of the stunts and illustrate Panna's still rough style of choreography.
While Born to Fight obviously can't compare with the far more polished works made more than twenty years later, the movie is still very much worth checking out. Taken for the 70s era B-movie that it is, Panna directs a fun romp through rural Thailand, with spit-takes, motorbike chases, and fights against a team of ninjas. Choppy and clumsy at times, Born to Fight represents the first in an amazing legacy of hard-hitting Thai action films.